Mountain ranges in the Andean North of Argentina offer not only the magnificent scenery for which they are famous, but also some spectacular indian trails that starting in the humid lowland valleys climb up crossing the Cloudforest and reach the great expanses of the altiplano at 4.000 m.
A few of these paths venture higher up to the ice-carpeted vertical walls and the snow-capped peaks of 6.000 m. volcanoes. One of those places in the world offering a fine combination of natural history and cultural adventure, good climate throughout the year, superb food and accommodation in private ranches, plus the warm welcome of its people.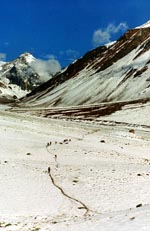 Clark Expediciones operate Adventure and Trekking Tours in the Andean North providing transportation in adequate vehicles -4x4 wagons are often essential-, horses to carry gear, first quality camp service, good food and expert mountain guides.
Our standard circuits include from half-day or one day soft hikes to seven-days treks, including an attempt to the summit of Chani Mount. Basically, our short tours of moderate hiking are designed for family groups and travelers wishing to do some escorted walking and exploring.
Our rigorous trek to the Nevado de Chani and other custom-designed hiking and adventure tours are created for foreign trekking tour operators to which we specially invite to discover this unique Andean destination.